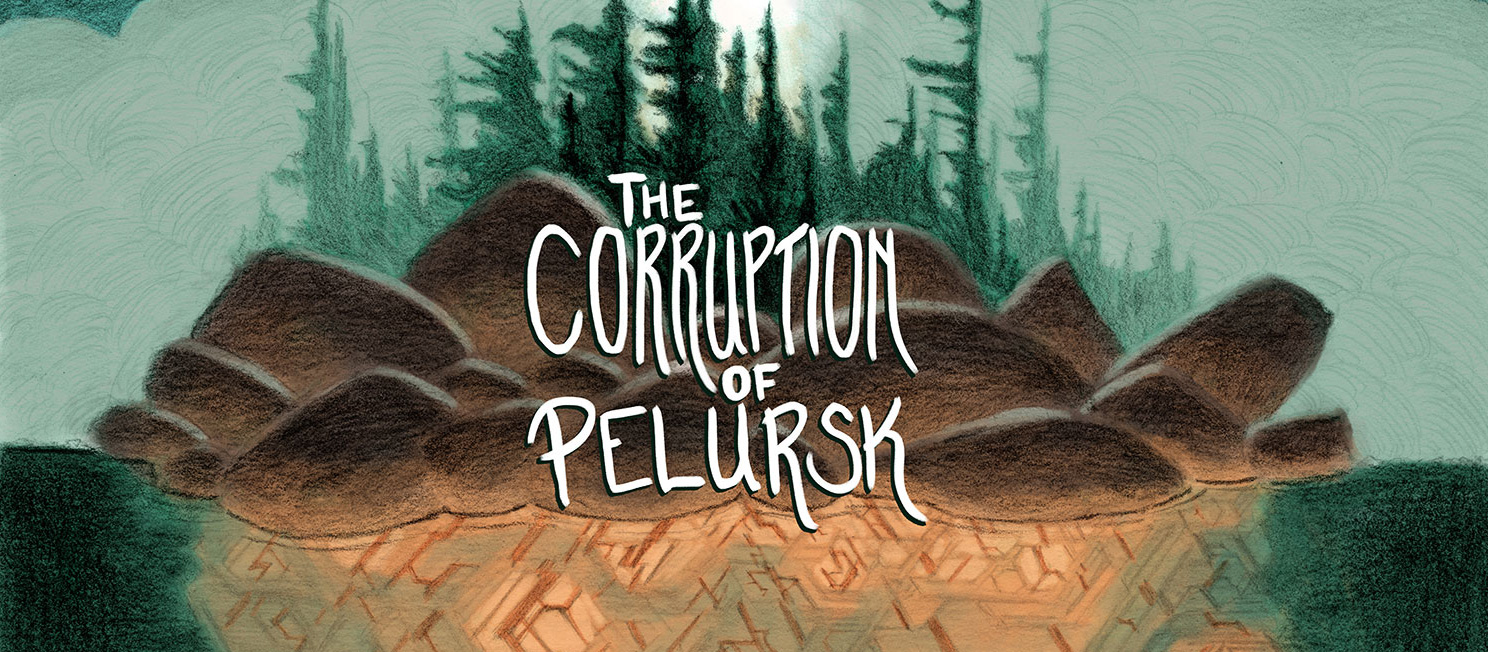 The Corruption of Pelursk
The Isle of Pelursk holds a glowing, steaming, mist-shrouded secret at its heart, and once you've entered its clutches it does not want to let you leave.
The Corruption of Pelursk is an adventure module, designed to fit easily as a sidequest into an ongoing campaign or stand confidently on its own!
This adventure features a randomized hexcrawl across an island that seeks to destroy the players; as they explore they will learn the history of the Isle of Pelursk through ruins, hauntings and, as mentioned, island attacks.
This Pocket Dungeon includes: the dungeon zine, a 60 page PDF, and the B&W map, a 11x17 print-at-home black and white map supplied on two 8.5 x 11 sheets, with a set of 12 cut-out hexes, as well as thirteen digital play assets including a colour map and colour hexes provided individually in web-friendly formats for use in online play.
Thematically, this module deals with generational secrets, children in danger, economic anxiety, and so many ghosts.
Purchase
In order to download this adventure you must purchase it at or above the minimum price of $5 USD. You will get access to the following files:
The Corruption of Pelursk PDF.pdf
1 MB
Digital-Asset-Hex-1.png
41 kB
Digital-Asset-Hex-2.png
39 kB
Digital-Asset-Hex-3.png
40 kB
Digital-Asset-Hex-4.png
28 kB
Digital-Asset-Hex-5.png
33 kB
Digital-Asset-Hex-6.png
22 kB
Digital-Asset-Hex-7.png
33 kB
Digital-Asset-Hex-8.png
37 kB
Digital-Asset-Hex-9.png
34 kB
Digital-Asset-Hex-10.png
29 kB
Digital-Asset-Hex-11.png
34 kB
Digital-Asset-Hex-12.png
31 kB
Digital-Asset-Map.jpg
663 kB
The Corruption of Pelursk Map pg1.pdf
8 MB
The Corruption of Pelursk Map pg2.pdf
9 MB